Windows 7 SP1 ALL IN ONE 32/64-bit Fully Activated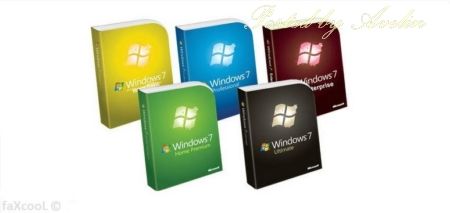 Introduction
Windows 7 Ultimate is the most versatile and powerful edition of Windows 7. It combines remarkable ease-of-use with the entertainment features of Home Premium and the business capabilities of Professional, including the ability to run many Windows XP productivity programs in Windows XP Mode. For added security, you can encrypt your data with BitLocker and BitLocker-To-Go.
Features
Following are the including versions
Windows 7 Starter 32-bit
Windows 7 Home Basic 32/64-bit
Windows 7 Home Premium 32/64-bit
Windows 7 Professional 32/64-bit
Windows 7 Enterprise 32/64-bit
Windows 7 Ultimate 32/64-bit
**********************************
Bootable ISO which perfectly fits on classic DVD5 disc.
Activated (no serial needed).
Genuine version (Windows Update is available).
Installation Notes
Extract using WinRAR.
Use ImgBurn** to burn the extracted ISO file called "faXcooL.Windows.7.SP1.ENG.x86-x64.ACTiVATED"
You can use any other software for this operation (Nero, Alcohol, CloneCD...)
Burning speed should not be faster than 4x.
Restart your computer*.
You can install it from existing OS, but I'll recommend the clean installation.
Make sure you've seleceted your DVD-ROM/RW drive as a first boot device (BIOS setup)
If you don't know how to do that, check this link http://www.hiren.info/pages/bios-boot-cdrom
The text message will appear "Press any key to boot from CD or DVD...."
By pressing the key you're entering the setup.
Select your language, time and currency and keyboard input (optionaly)
Click "Install now".
Choose your edition* (x86 is 32-bit, x64 is 64-bit) depending of CPU type you have.
Note that if you have less than 4GB of RAM, x64 will be useless.
Click "I accept".
Click "Custom (advanced).
Choose your partition/hdd drive where Win7 should be installed and click format.
Setup will continue automaticly and it will finish after 15-30 min.
Next step will be username (Image 17).
Type your password (if you want).
Choose the third option for next step.
Select your time zone.
Select your current location.
And the last step will be silent auto-activation
Your PC will restart for the last time.
And that would be all about installation. You're in Windows now.
Activation
This release has integrated RemoveWAT 2.2.6.0.
This tool completely removes Windows Activation Technologies from your sytem and your Windows will be fully activated and fully updateable, plus, you won't have to worry about malicious updates (i.e. KB971033) which can deactivate your copy of Windows.
It runs automaticly and silently after the setup.
System Requirements
If you want to run Windows 7 on your PC, here's what it takes:
1 gigahertz (GHz) or faster 32-bit (x86) or 64-bit (x64) processor
1 gigabyte (GB) RAM (32-bit) or 2 GB RAM (64-bit)
16 GB available hard disk space (32-bit) or 20 GB (64-bit)
DirectX 9 graphics device with WDDM 1.0 or higher driver
Screen Shots
Download Links
DOWNLOAD NOW (MIRROR LINK)